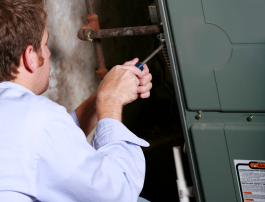 Any Frank Bros. automatic delivery customer can take advantage of our Premium Service Plan.
This comprehensive plan includes:
Thousands of dollars worth of parts, as well as all labor;
Emergency service calls 365 days a year, including nights, weekends and holidays;
Complete fuel management program with preventive maintenance, including a thorough cleaning of the boiler or furnace; nozzle size evaluation to ensure optimal system efficiency; adjustment of the fuel pump and controller; and inspection and cleaning of the chimney base. Frank Bros. will also perform an instrument test to determine flue gas temperature and carbon dioxide levels and ensure efficient and safe system operations.
Through our Premium Heating Service Plan, these are some of the parts that Frank Bros will repair or replace under normal use.
Altimeter Gauge
Aquastats
Automatic Air Vents (on boiler)
Blast Tube
Blower Motor (up to 1/3 hp)
Blower Bearings
Burner Motor
Cadmium Cell Relays
Circulator Coupling
Circulator Bearing Assembly
Circulator Motor
Circulator Motor Mounts
Couplings
Delayed Action Valve
Draft Regulator

Dual Valve
Electrical Wiring to Controls
Electrodes
Electrode Wiring & Clips
End Cone
Expansion Tank
Exposed Oil Line
Extrol Tank
Fan Burner
Fill Cap/Vent Cap
Firematic Valve
Flo Valve
Flue Pipe
Fuel Pump
Fuel Pump Gasket

Ignition Transformer
Impeller
Limit Controls
Nozzle
Nozzle Adapter
Oil Filter & Cartridge
Porcelains
Pressure Reducing Valve
Pressuretrol
Primary Control
Relief Valve
Stack Relay
Temperature Gauge
Thermostat (Plain)
Turbultor
Zone Valve
Optional Coverage (additional charges apply):
Additional Zone: Thermostat (plain), circulator, flo valve, circulator relay, zone valve
Oil-Fired Water Heater: Burner parts and controls, relief valve, flue pipe (not including tank). Annual preventive maintenance is also included with this option.
Aquabooster Hot Water Storage Tank: controls, circulator, relief valve (not including tank)
Indirect Water Heater: controls, circulator, relief valve (not including tank)
For complete information, including pricing and plan terms and conditions, please contact us.