An annual tune-up is essential for the proper maintenance of your heating system. A well-tuned burner can burn 10% less fuel than a burner that doesn't receive its annual tune-up. That's a savings that every homeowner will appreciate! And, of course, you'll have the peace of mind that your system is working to the max!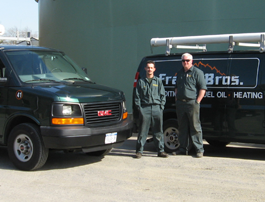 A tune-up will benefit your heating system - and your budget - by:
Saving you money by reducing the amount of fuel your system uses
Conserving energy, which is good for our environment
Helping to find problems before they become expensive, inconvenient repairs
During a typical tune-up, we will:
Clean electrodes and nozzle assembly, and install a new filter
Oil the burner, fan and circulator motors
Clean combustion chamber and examine for cracks
Test for flame adjustment and exhaust leaks using the latest testing equipment
Run the unit for a short time to test for maximum efficiency
Check that all safety and operating controls are properly working
Check the flue pipe
Replace any worn parts (additional charge)
An Oilheat tune-up covers four main safety and efficiency issues:
Vent draft: Exhaust gas should be properly vented to the exterior of the house.
Stack temperature: A stack temperature that is too high means heat is being vented instead of directed to the interior. A temperature that is too low means incomplete combustion and likely an interior buildup of soot.
CO2 level: Proper levels of carbon dioxide leads to higher combustion efficiency.
Smoke level: If the burner produces too much smoke, incomplete combustion is likely.
If you are enrolled in Frank Bros.' service plan, your annual tune-up is included. Contact us to enroll in the plan or to schedule a tune-up.